Course Overview (back to top; jump down to schedule of lectures)
This lecture course examines central aspects of German history from the 1790s to the eve of World War I, including:

the impact of the French Revolution and Napoleon on the German states;
popular movements in early 19th century German lands;
the "pre-March" period (early industrialization) and the revolution of 1848;
the processes of unification and industrialization;
popular movements, including workers, women and national associations;;
the nature of the Bismarckian state, including foreign policy;
William II's "personal regime" after the fall of Bismarck;
social transformations at the end of the century;
the events that led up to the Great War (World War I).
Requirements (back to top)
I expect you to attend all classes. Why take a course if you don't make the effort to learn what it teaches? Lectures include images, discussion and information not available in the course readings.
I will call roll until I learn your names. Participation counts for 10% of the course grade.
If you wish to have an excused absence, including undocumented medical absences, you must inform me by e-mail or phone message before the class in question begins.
There will not be a formal midterm examination. Instead, you will be asked to write a short text (from a few lines to a page), sometimes at home, sometimes in class, on simple questions about the assigned readings, roughly once each week. These ten questions will be announced in advance. They are worth 30% (!) of the final grade.
Make-up questions are only possible for excused absences.
A book essay proposal (1-2 pages), draft, and a final version (1800 words, 5-6 pages). This paper is based primarily on one book, but requires some research. (A blue Book Essay handout will provide details.)
The proposal is due Friday, Oct. 20; the paper draft Wednesday, Nov. 8; and the final version Wednesday, December 6, always at the beginning of class.
Together they count for 5+25+5=35% of the final grade.
A take-home final examination will have 3 IDs and one essay question. It is worth 25%. A study guide will be distributed in advance.
No-exam option: Students receiving a B+ or better on their paper draft may opt out of taking the final exam. If they want to opt for this, they must submit, by Nov. 22, a corrected and augmented version for publication on the course web site. This web version must include a short "about the author," a 60-word abstract, and an annotated bibliography - linkography. The grade of these additional parts will count as the exam grade.
Details will be available on a separate web option handout.
These papers may be presented orally for up to 5 points extra credit.
Grading:
Participation:
10 questions:
Proposal+draft+term paper:
Final exam / web option:
10%
30%
35% (5+25+5)
25%
Late policy: Work submitted after 11:00am on the due date will lose one point per day.
Required Books (also on reserve at the UCSB library) (back to top)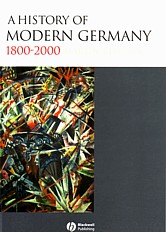 Textbook: Martin Kitchen, A History of Modern Germany, 1800-2000 (Blackwell, 2006). DD203.K58 2006, $40 new
(note: this will also be the textbook for Hist 133B in Winter quarter)
amazon $40 new
Hagen Schulze, The Course of German Nationalism From Frederick the Great to Bismarck, 1763-1867 [1985], (Cambridge U.P., 1991), 174pp., $20/29 used/new. DD204.S3413 1990 amazon $11 used, $29 new
Heinrich Mann, Man of Straw [Der Untertan, 1918] (Penguin, 1984, 1993), 300pp., buy used or photocopied. PT2625.A43 U513
amazon $5-15 used; abebooks $4-9 used; $11.95 for a bound photocopy at the UCen bookstore (available Oct. 27)