Course Overview (back to top; jump down to schedule of lectures)
This course is designed for students with a general knowledge of European history in the 20th century.
We will investigate the main events in German history from the origins of World War I to the legacies of World War II. These include:
the revolution and counterrevolution that ended the First World War;
the crisis, stable and depression phases of the Weimar Republic;
Hitler's ascent to power;
life in Nazi Germany, and
key features of World War II and the Holocaust.
Your Contribution (Course Requirements) (back to top)
I expect you to attend all classes. Why take a course if you don't make the effort to learn what it teaches? Lectures include images, discussion and information not available elsewhere. I will call roll until I learn your names. Participation counts for 5% of the course grade.
If you wish to have an excused absence, including undocumented medical absences, you must inform me by e-mail or phone message before the class in question begins.
There will not be a formal midterm examination. Instead, you will be asked to write a short text (300 words) on simple questions about the assigned readings, roughly once each week. These eight questions will be announced in advance. They are worth 30% of the final grade.
Make-up questions are only possible for absences excused prior to the start of class.
A list of several essay topic ideas for a book essay, the essay itself (1800 words, 5-6 pages), and a revised version. This essay is based primarily on one book, which I will recommend based on your topic ideas, or which you may select yourself. (A blue book essay handout will provide details.)
The list of ideas is due Thursday, Feb. 8; the essay itself Thursday, March 1; and the revised version Tuesday, March 13, always at the beginning of class. Together they count for 5+30+5=40% of your final grade. However, note the different deadlines for the no final exam option in #5.
A take-home final examination will have 3 IDs chosen from 9, and one essay question. It is worth 25%. A study guide may be distributed in advance.
No-exam option: Students who submit their topic ideas by Feb. 1 and their book essay by Feb. 22, if they receive a B+ or better on that essay, may opt out of taking the final exam. If you qualify for and choose this option, you must submit, by March 6, a corrected and augmented version for publication on the course web site. This web version must include a short "about the author" paragraph, a 60-word abstract, and an annotated bibliography-linkography. The author blurb and abstract are worth 5% of your total grade, the annotated references 20% (!). Details will be available on a separate web option handout. Revised versions of the 3 supplements are due Mar. 15.
Grading:
Participation:
8 questions:
ideas+essay+revisions:
Final exam / web option:
5%
25%
40% (5+30+5)
25%
Late policy: Work submitted after 11:00am on the due date will lose one point per day.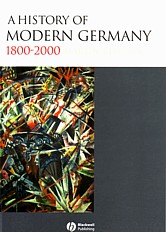 Required Books (also on reserve at the UCSB library)
(back to top)
Textbook: Martin Kitchen, A History of Modern Germany, 1800-2000 (Blackwell, 2006). DD203.K58 2006, $40 new
(note: this can be used as the textbook for Hist 133C in Spring quarter)
amazon $40 new
Essay Collection : Richard Bessel (ed.), Life in the Third Reich, (Oxford, 1987, 2001), $13. UCSB: DD256.5 .L52 1987
amazon $3 used, $13 new
Photocopied Reader : available week of January 29. for a bound photocopy at a copyshop (available Oct. 27)