Dr. Adolf Pokorny (back to top)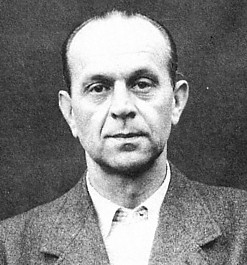 Adolf Pokorny: Physician, Specialist in Skin and Venereal Diseases.
In the sterilization experiments, Reich Leader SS Heinrich Himmler had made his objective clear, he was interested in the development of a cheap and more efficient (rapid) method of sterilization that could be used against the enemies of Germany en masse; in other words, "not only to defeat the enemy but also to exterminate him." Defendant Dr. Adolf Pokorny had notified Himmler of a newly synthesized drug from the caladium plant that, when administered orally or injected, produced sterility in the animals tested. In a letter dated in October, 1941, Pokorny wrote to Himmler, "If on the basis of this research, it were possible to produce a drug, which after a relatively short time effects an imperceptible sterilization on human beings, then we would have a new powerful weapon at our disposal." At a conference held on July 7-8, 1942, Himmler announced that prisoners from the Auschwitz concentration camp would be used as experimental subjects to test methods of sterilization without their knowledge.
Pokorny's earlier statement proves that, he not only had total knowledge of the intended usage of the experiments, but that he supported its conduct. This, demonstrates that Pokorny is guilty of violating his commitment to the Hippocratic Oath. Pokorny knew that the methodology he was suggesting was a direct and serious violation of the patients' rights; not only were they to be sterilized without their consent, but in complete ignorance.
Up to this point I have illustrated how Pokorny can be seen as a perpetrator. However, the active ingredient, the caladium plant, needed for the sterilization injections was grown only in North America, thus the production rate would be too slow to satisfy Himmler's request, which I would argue is the primary reason that Pokorny was not convicted.
Although Pokorny's method did not become the principal form of sterilization, there are records that Dr. Clauberg, used it to sterilize several thousand women in Auschwitz. Clauberg reported on June 7, 1943 that it was possible to sterilize several hundred to a thousand people per day. He went on to say that such sterilization could be, "performed by a single injection made from the entrance of the uterus in the course of the usual customary gynecological examination." For whatever reason, Clauberg was not part of the trial I have simply incorporated this as evidence that although Pokorny was not convicted, his methods of sterilization were in fact used and considered to a significant degree.
These numbers in comparison to the numbers of victims of what would become the primary method of conduct for sterilization (not yet discussed) may have appeared to be insignificant in the court room. However, we cannot morally ignore the fact that still thousands of lives were affected as a result of Pokorny's research. In his final statement of the trial, Pokorny said:
With this hope I am looking forward to your judgment, and in that connection I am thinking of my children who, for years now, have lived under the protection of an allied power, and who will not believe that their father, after everything that he has suffered, could possibly have acted as an enemy to human rights.
One has to wonder what effect supplying such a drug to Himmler would have had on the fate of thousands of victims of forced sterilization, had Pokorny successfully synthesized such a drug.