1. Primary Sources: How do we know about Hitler's life? (back to top)
This section began with an analysis of document 2 in the textbook (Engel 2000, 89f): Hitler's August 13, 1920 speech "about the Jews." I read the excerpt aloud in class and pointed out how historians interpret this passage to mean that Hitler, from this early date, wanted to murder all Jews (Engel, 15). I then produced a thick collection of documents, Hitler's Complete Writings, 1905-1924, edited by Jäckel and Kuhn (Stuttgart, 1980), which reproduces the entire 3-hour speech on pp. 184-204. It contains valuable additional information that enables us to better assess this document.
A poster announcing this meeting of the NSDAP on a Friday night in the Hofbräuhaus in Munich titled the speech "Why are we antisemites?" We have the handwritten text of the speech (with a few minor edits in Hitler's hand), as well as a police report and several newspaper reports, including the anti-Nazi Munich Post and the Nazi paper Völkischer Beobachter (National Observer).
There is no doubt that this is a murderously antisemitic harangue. At the same time Hitler's calls for death as the solution of the presumed threat posed by Jews are embedded in a detailed explanation of a racial worldview that addresses and attempts to refute many pro-Jewish standpoints. It is not a simple matter to connect this racist vision put forth by a minor figure in a provincial capital with a grandiose continental plan for genocide implemented with the resources of a major industrial nation.
This is not Hitler's first documented theoretical statement about Jews. In September 1919 his Reichswehr boss asked him to answer a letter from a certain Adolf Gemlich asking why "Jewishdom" posed such a danger (see Jäckel and Kuhn, 88-90; translation on H-German). At that time Hitler's supervisor already knew that Hitler was a passionate "expert" on the "Jewish question."
So, what are the sources that document Hitler's early life?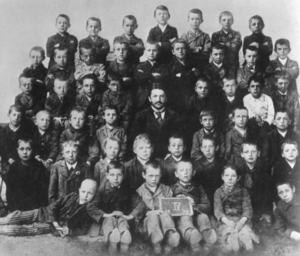 Hitler's 4th grade class in Leonding, 1899 (AH top center): Predestined to lead?
Hitler's own autobiography, Mein Kampf (My Struggle), written in 1924, supplemented by stories he told to his inner circle in the 1940s that were recorded by a stenographer and published after the war (variously known as Hitler's "Table Talk" or "Secret Conversations." We know that Hitler deliberately distorted and misdated some events in order to present to his followers a straighter line of predestination to lead Germany.

Adolf's relationship to his 52-year-older father;
How poor he was in Vienna from 1908 to 1913, and how hard he worked while there;
Whether his (antisemitic) "world view" formed in Vienna
The date of his move from Vienna to Munich (May 1913, not 1912)
Memoirs of people who knew him, for instance:
August "Gustl" Kubizek, his best friend in Linz and Vienna (fall 1905-fall 1908), who wrote his reminiscences for the NSDAP archive in 1938. He published a book in English in 1954 (republished in 1973): Young Hitler: The Story of Our Friendship translated by E.V. Enderson, introduction by Hugh Trevor-Roper (London: Allan Wingate, 1954). Although Kubizek boosted his memory by plagiarizing from Mein Kampf, he does add valuable insights.
Paula Wolf, Hitler's younger sister, who was interviewed by US Army intelligence in June 1945 and July 1946. (full texts available on Michael Williams' website)
Reinhold Hanisch, who lived and worked with Hitler in the homeless dormitory in Vienna around 1910, and Karl Honisch, another resident of the dormitory who knew Hitler in 1913. Hanisch published his story in 1939 in the New Republic under the title "I Was Hitler's Buddy" (scans and text available here); Honisch wrote his for the NSDAP archive in the 1930s.
The memoirs of Hitler's fellow messengers in World War I, for example: Balthasar Brandmayr, Meldegänger Hitler 1914-18 (Munich, 1933), and Ernst "Schmiedl" Schmidt.
Official documents about Hitler's life, such as birth certificates, police apartment registry entries, draft board proceedings, bank records, military regimental assignment and pay records, police reports, court records.
Personal documents, including letters Hitler wrote to friends and acquaintences, photographs, drawings and paintings.
Oct. 1914-Feb. 1915: letters to his Munich landlords, Anna & Josef Popp
Feb. 5, 1915: 12 page letter to Ernst Hepp in Munich, who had bought several of Hitler's paintings and knew him personally.

Portions of the letter to Hepp were reprinted in Nazi newspapers between 1937 and 1945.
reprinted in Jäckel and Kuhn 1980, 64-69.
Public media, such as newspaper reports, photographs and even films.
(see 2002 UCSB student paper on Munich Post)
Biographies of Hitler, especially those written during his lifetime, by journalists and scholars who, in addition to using the documents above, interviewed people who know Hitler.
Rudolf Olden, Hitler the Pawn (London, 1936)
Konrad Heiden, Hitler: A Biography (London, 1936); Der Führer (London, 1944)
John Toland (1976): journalist interviewed more than 160 people in 1963 and 1970s.
We have an especially rich collection of everything because the Nazi party chancellory collected everything it could in the 1920s, even commissioning memoirs from people who had known Hitler at various stages of his life. (Issue of questionable documents: Lukacs 1997, p. 59ff)