Page 12 (back to top)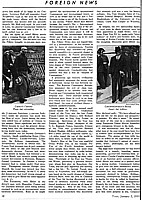 party lost much of its bulge in the Congress. Secretary Hull will remember Good Neighborly 1938 as the year he crowned his trade treaty efforts with the British agreement, but history will not specially identify Mr. Hull with 1938. At year's end in Lima, his plan of Continental Solidarity for the two Americas had a few of its teeth pulled (see p. 10).
But the figure of Adolf Hitler strode over a cringing Europe with all the swagger of a conqueror. Not the mere fact that the Führer brought 10,500,000 more people (7,000,000 Austrians, 3,500,000 Sudetens) under his absolute rule made him the Man of 1938. Japan during the same time added tens of millions of Chinese to her empire. More significant was the fact Hitler became in 1938 the greatest threatening force that the democratic, freedom-loving world faces today.
His shadow fell far beyond Germany's frontiers. Small, neighboring States (Denmark, Norway, Czecho-Slovakia, Lithuania, the Balkans, Luxembourg, The Netherlands) feared to offend him. In France Nazi pressure was in part responsible for some of the post-Munich anti-democratic decrees. Fascism bad intervened openly in Spain, had fostered a revolt in Brazil, was covertly aiding revolutionary movements in Rumania, Hungary, Poland, Lithuania. In Finland a foreign minister had to resign under Nazi pressure. Throughout eastern Europe after Munich the trend was toward less freedom, more dictatorship. In the U. S. alone did democracy feel itself strong enough at year's end to give Hitler his comeuppance (see p. 5).
The Fascintem, with Hitler in the driver's seat, with Mussolini, Franco and the Japanese military cabal riding behind, emerged in 1938 as an international, revolutionary movement. Rant as he might against the machinations of international Communism and international Jewry, or rave as he would that he was just a PanGerman trying to get all the Germans back in one nation, Führer Hitler had himself become the world's No. 1 International Revolutionist--so much so that if the oft-predicted struggle between Fascism and Communism now takes place it will be only because two revolutionist dictators, Hitler and Stalin, are too big to let each other live in the same world.
But Führer Hitler does not regard himself as a revolutionary: he has become so only by force of circumstances. Fascism has discovered that freedom--of press, speech, assembly--is a potential danger to its own security. In Fascist phraseology democracy is often coupled with Communism. The Fascist battle against freedom is often carried forward under the false slogan of "Down with Communism!" One of the chief German complaints against democratic Czechoslovakia last summer was that it was an "outpost of Communism."
A generation ago western civilization had apparently outgrown the major evils of barbarism except for war between nations. The Russian Communist Revolution promoted the evil of class war. Hitler topped it by another race war. Fascism and Communism both resurrected religious war. These multiple forms of barbarism gave shape in 1938 to an issue over which men may again, perhaps soon, shed blood: the issue of civilized liberty v. barbaric authoritarianism.
Lesser men of the year seemed small indeed beside the Führer. Undoubted Crook of the Year was the late Frank Donald Coster (né Musica), with Richard Whitney, now in Sing Sing Prison, as runner-up. Sportsman of the Year was Tennist Donald Budge, champion of the U. S., England, France, Australia. Aviator of the Year was 33-year-old Howard Robard Hughes, diffident millionaire, who flew a sober, precise, foolproof course 14,716 miles round the top of the world in three days, 19 hours, eight minutes.
Radio's Man of the Year was youthful Orson Welles who, in his famous The War of the Worlds broadcast, scared fewer people than Hitler, but more than bad ever been frightened by radio before, demonstrating that radio can be a tremendous force in whipping up mass emotion. Playwright of the Year was Thornton Wilder, previously a precious littératent, whose first play on Broadway, Our Town, was not only ingenious and moving, but a big hit. To Gabriel Pascal, producer of Pygmalion, first full-length picture based on the wordy dramas of George Bernard Shaw, went the title of Cineman of the Year for having discovered a rich mine of dramatic material when other famed producers had given up all hope of ever tapping it. Men of the Year, outstanding in comprehensive science, were three medical researchers who discovered that nicotinic acid was a cure for human, pellagra: Drs. Tom Douglas Spies of Cincinnati General Hospital, Marion Arthur Blankenhorn of the University of Cincinnati, Clark Niel Cooper of Waterloo, Iowa.
In religion, the two outstanding figure of 1938 were in sharp contrast save for their opposition to Adolf Hitler. One of them, Pope Pius XI, 81, spoke with "bitter sadness" of Italy's anti-Semitic laws, the harrying of Italian Catholic Action groups, the reception Mussolini gave Hitler last May, declared sadly: "We have offered our now old life for the peace and prosperity of peoples. We offer it anew." By spending most of the year in a concentration camp, Protestant Pastor Martin Niemoeller gave courageous witness to his faith.
It was noteworthy that few of these other men of the year would have been free to achieve their accomplishments in Nazi Germany. The genius of free wills has been so stifled by the oppression of dictatorship that Germany's output of poetry, prose, music, philosophy, art has been meagre indeed.
The man most responsible for this world tragedy is a moody, brooding, unprepossessing, 49-year-old Austrian-born ascetic with a Charlie Chaplin mustache. The son of an Austrian petty customs official, Adolf Hitler was raised as a spoiled child by a doting mother. Consistently failing to pass even the most elementary studies, he grew up a half-educated young man, untrained for any trade or profession, seemingly doomed to failure. Brilliant, charming, cosmopolitan Vienna he learned to loathe for what he called its Semitism; more to his liking was homogeneous Munich, his real home after 1912. To this man of no trade and few interests the Great War was a welcome event which gave him some purpose in life. Corporal