What were the causes of the fall of the wall?
EIEIO Model of Causes in History
Rosa Luxemburg: 1918; 1/17/88 (follow-up from last time)

"Freedom is always also the freedom of those with dissenting opinions."
marginal note in 1918 manuscript: 'Freedom only for the supporters of the government, only for the members of a political party - no matter how numerous they may be - is not freedom. Freedom is always the freedom of those who think differently." ["Freiheit nur für die Anhänger der Regierung, nur für die Mitglieder einer Partei - mögen sie noch so zahlreich sein - ist keine Freiheit. Freiheit ist immer Freiheit des Andersdenkenden."]
http://www.marxists.org/deutsch/archiv/luxemburg/1918/russrev/teil4.htm#nc
East German state: "Freedom is the insight into necessity"
Jan./Feb. 1988
May-Oct. 1989
maps
6 October 1989 demands
free access to information
open political discussion
freedom of thought and creativity
right to maintain pluralist ideology
right to dissent
right to travel freely
right to exert influence on government authorities
right to reexamine our beliefs [not to adhere rigidly to doctrine]
we the people demand the right to voice opinions in affairs of state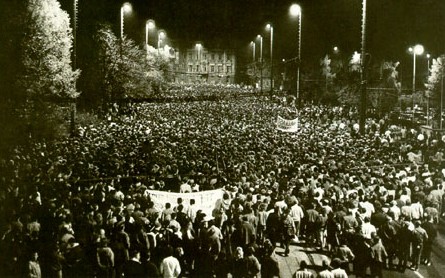 Leipzig="periphery", numbers at Monday demonstrations:
Sept 4: 100s
Sep 25: 8000
Oct. 2: 10,000-25,000
Oct. 9: 50,000
Oct 16: 100,000
Oct 23: 250,000
Oct 30: 500,000
Nov. 4: 750,000-1 mio. (B.)
Nov. 6: 500,000
Leipzig, Oct. 9
Leipzig, Oct. 1989
Berlin, Nov. 4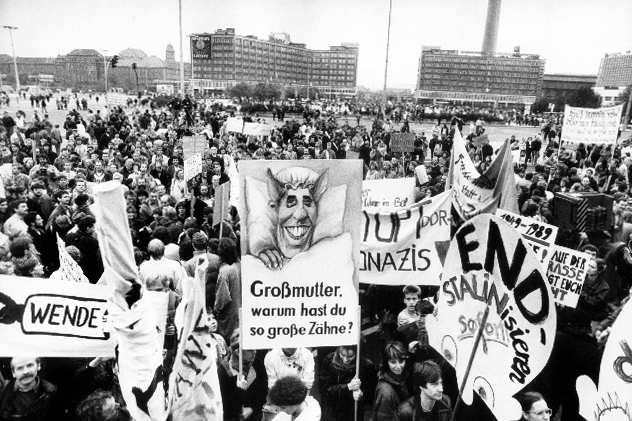 Nov. 4, 1989 "artists' demonstration," slogans:
Against monopoly socialism -- for democratic socialism
Revolutions are holidays for the people
Skepticism is a citizen's first obligation
Stepping down is a step forward
(Rücktritt ist Fortschritt)
Reforms, but unlimited
(unbekrenzt, a pun on Egon Krenz)
Those who don't move, don't feel their chains
No power for anybody!
Privileges for All!
To go is silver, to stay is gold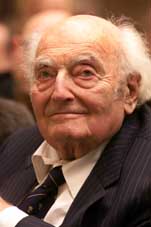 Stefan Heym on Nov. 4
"... it is as if one pushed open the window after all the years of stagnation --spiritual, economic, and political-- the years of dullness and mustiness, of phrasemongering and bureaucratic arbitrariness, of official blindness and deafness. [...] Someone wrote me - and the man is right: In the past weeks we have overcome our speechlessness, and we are now in the process of learning to walk upright."
Christa Wolf on Nov. 4
"The 'people of the state of the GDR' have hit the street in order to identify themselves as a 'people'. And for me, this is the most important sentence of these past weeks - the thousandfold cry: We - are - the - people! A simple statement. We don't want to forget it."
Neuruppin, Nov. 28
Stasi Principles
Every person is a potential security risk
Know everything in order to be secure
Security has precedence over law