June 17, 1953 Uprising (back to top)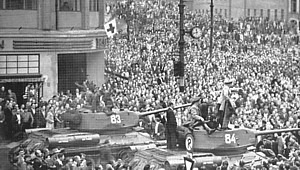 What happened? Responding to pressure to work faster, construction workers in East Berlin marched to government officials to demand a repeal of the new norms. Disappointed with the response, they called for a general strike across the country. Soviet forces were deployed to force strikers off the streets. Timeline:
Apr. 1946: SPD and KPD "merge" into one party, the SED

Otto Grotewohl of the SPD, who had been in the USPD during WWI and then returned to the reformist SPD, brings his party into the union. He was arrested several times during the Nazi period but remained in Germany.
Walter Ulbricht of the KPD, who had emigrated to France and then the Soviet Union in 1938, led his party. He was very loyal to Stalin.

1948: the SED is "Stalinized:" discussion and dissent are not tolerated
July 1952: 2nd SED party conference [according to Klessmann 1988, 263]:

"building of socialism" is decreed, forced collectivization of factories and farms is the method
as a consequence emigration from East Germany increases:
Jan. 1952: 7,200 refugees registered in the West (240/day);
Mar. 1953: 58,600 registered (1950/day)
Jan.-June 1953 estimate: 225,000-426,000 refugees [Fulbrook, Anatomy 1995, 180]

March 5, 1953: Stalin dies

jockeying for power in Moscow:
Beria ("New Course") might have ousted Ulbricht
Semyonov gains upper hand in early June, pursues "softer course"

June 1953: East German gov't raises work norms by 10%

Differing assessments are published in newspapers (Tribüne, Neues Deutschland)
For details, see Fulbrook 1992, 190f; or 2003 ed., 154f (on amazon, search keyword Zaisser to read on-line)
Malenkov summons Ulbricht and Grotewohl to Moscow, warns them to correct the situation in East Germany by halting collectivization and fostering independent businesses
Announced by SU on June 9; rumors of Ulbrichts demise circulate, expectation of repeal of work norm increase set to go into effect

June 16, 1953: workers on the Stalinallee project march to FDGB Union headquarters, then to the gov't House of Ministries, demand repeal of norm increase. One "enterprising worker" grabbed a megaphone and called for a general strike the next day. (role of peOple/lEadership)
June 17, 1953: 300,000-375,000 workers in most industrial cities and towns strike or demonstrate, about 100,000 of them in East Berlin (nationwide 5-7-10% of the total workforce, depending on whose estimate you believe)

Soviet tanks come out to clear the streets. About 125-250-500 people were killed and 1200 arrested

Aug. 4, 1953: West German parliament passes a law declaring June 17 a national holiday, The "Day of German Unity" (although the strikes had nothing to do with a desire to unite with West Germany).
Why did Ulbricht remain in power after 1953, when Khrushchev repudiated the course that Stalin had set (and which Ulbricht wanted to continue in East Germany)?
at first Beria was ousted by Malenkow and Khruschev
after the 1956 uprising in Hungary, SU wanted someone who could guarantee continuity
What were the causes of the 1953 uprisings?
Economic: work norms as trigger
Interntional politics: regime change in the Soviet Union--new course after Stalin
Elites: Ulbricht set the goal for the accelerated transition to socialism
Ideology: workers believed it was their state and government should listen to them
peOple: voting with their feet: going on the streets in droves to demonstrate, also leaving East Germany
For more information, see: