Gewalt: Ja oder Nein?
by Günther Anders (1987)
---
The scans below are from G. Anders, Gewalt: Ja oder Nein, Eine notwendige Discussion (Munich: Knaur, 1987).
The title translates as "Violence: Yes or No, A Necessary Discussion."
After an introduction and a biographical summary, the first main text is an interview with Manfred Bissinger (who also edited the collection). There follows a number of responses by prominent public figures, then a couple of "more pointed" texts by Anders.
These texts were written when Ronald Reagan was president of the United States, and was pursuing an atomic build-up to force the Soviet Union's hand.
Added July 2017: pdf of entire book (back when I first made this page in 2002 pdfs were hard to make and read on the web).
---
There are 3 versions of each scan:
The 300 pixel high thumbnails you see below. I know these are hard to read, but they help with the orientation. Click them to get the screen-readable version:
Each of those links to a 600 or 1200 pixel wide version (so that each page can be viewed on a computer screen). These pages may print, depending on how your browser and printer are set up.
Finally, there are text links to the original 300dpi scans. They are large and will take long to download, but are the best quality for printing. You'll need to print them from imaging software (not from your browser).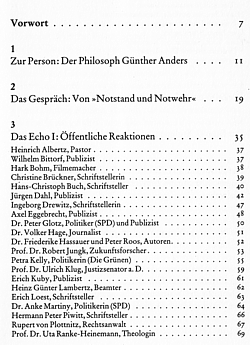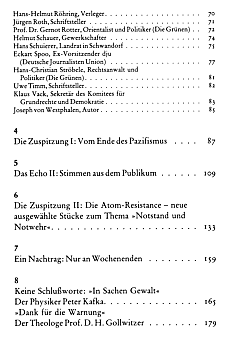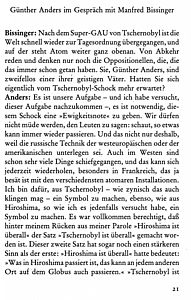 cont 1 300dpi; cont 2 300dpi; p. 21 300dpi; p. 22f 300dpi; p. 24f 300dpi; p. 26f 300dpi; 28f 300dpi; 30f 300dpi; 32f.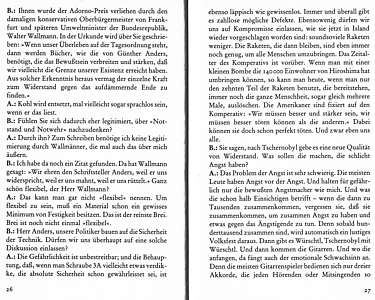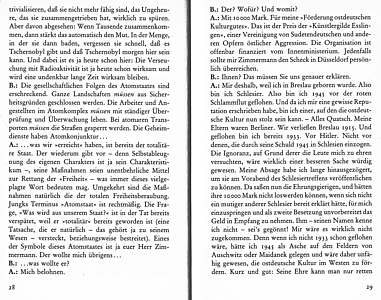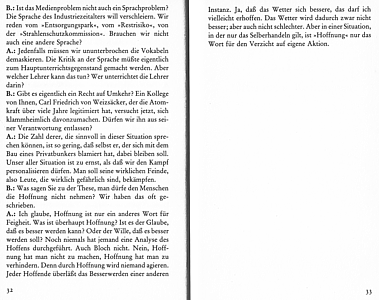 Scanned by Harold Marcuse, 23 December 2002
back to Günther Anders page / on-line texts, by Harold Marcuse (my homepage)