Bergen-Belsen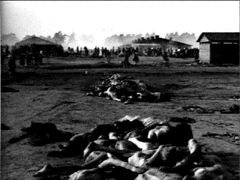 This page was created by Jessica Evans, a senior math major at UCSB (link to author's page). In researching Herta Bothe and Irma Grese (link to Bothe and Grese), we found that both women were active guards at Bergen-Belsen. Therefore, we thought it was important to research the camp itself (sources).
In April 1943, the Nazis created Bergen-Belsen in Lower Saxony near the city of Celle as a transit center. It was a concentration camp established originally to hold prisoners to be used in political exchanges, but Bergen-Belsen was never officially given formal concentration camp status. The second commandant, SS-Hauptsturmführer Josef Kramer, completed the transformation of Bergen-Belsen into a regular concentration camp.
The camp was divided into 5 sub-camps:
1. A "prisoners' camp" for the 500 inmates who had been brought in for construction work.
2. The "special camp, " for two transports of Jews from Poland, some 2,400 people, in possession of various documents, mostly South American.
3. The "neutral camp, " in which 350 Jews were housed from July 1944 until liberation. The inmates, nationals of neutral countries, were treated better than others prisoners.
4. The "star camp", for some 4,000 Jewish prisoners who were designated for exchange. It was called the "star camp" for the yellow star that prisoners were forced to wear.
5. The "Hungarian camp, " in which 1,685 Jews from Hungary were housed.
By 1945 thousands of prisoners who had become too weak to work were shipped there, to die off slowly by starvation and typhoid. In the month of March, more than 18,000 succumbed.
The first commandant in Bergen-Belsen was Adolf Haas. His previous assignment had been the concentration camp known as Niederhagen-Wewelsburg near Paderborn. On December 2nd, 1944, Haas was replaced by SS-Hauptsturmführer Josef Kramer, who had been working in concentration camps since 1934. Josef Kramer`s most recent assignment had been at the death camp Auschwitz-Birkenau. His incumbency had earned him the nickname the Beast of Belsen . To solve the problem of the epidemic of diarrhea in the camp, Kramer starved the prisoners. "If you don't eat, you don't shit." When railroad cars and convoys were unavailable, he dispatched the prisoners on long marches. The weakest, unable to keep going, were left to die or were shot.
In August 1944 a women's camp was added. From Buchenwald, 4,000 women prisoners were transferred to the camp and then dispatched to Flossenburg. Most of them returned to Bergen-Belsen, sick or exhausted. Women from Plasvow and Auschwitz also were sent to Bergen-Belsen in October 1944, among them Anne Frank and her sister Margot.
On April 15, 1945 the camp was liberated by the British. Soldiers were appalled to find 60,000 prisoners close to death. During the next five days, 14,000 died, and in the following weeks another 14,000 succumbed. Bergen-Belsen became the site of a Displaced Persons' camp, which remained in existence until 1951. 48 people who had worked in the camp were tried for their crimes; of these, 11 were executed on December 12, 1945, including Kramer.