Zarah Leander
The Diva of the Third Reich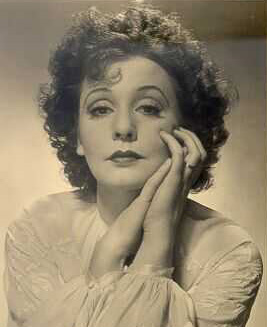 This page was created by Brittney Smith, a senior English major at UCSB (link to author page). As soon as I heard about Zarah in correlation to Marlene Dietrich, I wanted to know more. She was a beloved actress, especially after Marlene fled to America, but learning that her fame was sparked and continuously backed by the Nazi party made her a personality even more interesting to pursue. My information came from various Internet sources (sources).
Who would have thought that Nazi Germany's biggest film star during World War II would have been a Swedish born girl with Jewish grandparents no less? Beginning her career in small, Swedish theatres as a singer and actress, Zarah Leander, soon worked her way up to starring roles in Stockholm and Vienna before making her debut in German cinema which would forever solidify her name in history.

Zarah became a popular cinematic star very early on and the Germans loved her despite the fact that German was not her native language. She appeared on the covers of numerous magazines in the late 1930s, even before the war began, but she became widely known as being backed by the Nazis throughout WWII - she was their star and thus her continuous roles in films reflected that strong support.

One such film, Die Grosse Liebe or The Great Love (1942), has historically caused quite a stir. Starring Zarah Leander, the film included a few large song-and-dance routines and thus showcased Zarah's talents to the extreme. However, "'the problem…was to find women who were just as pretty, just as tall and, if possible, just as statuesque as Zarah Leander. But they were not to be found'" (Wolfgang Preiss, her co-star in the film. From the "Guardian Weekly," June 2001, www.q.co.za/2001/2001/06/08-ssdrag.html). Looking all over the country, the filmmakers could not find any other women to stand beside Zarah in one of the scenes, but they were not to be thwarted. Instead, they called upon the people who had all the answers - the Nazis. Surprisingly, the SS guards were called in to take the place of the unfound beauties and don wigs, dresses, and makeup - basically the film starred SS guards in drag, and during WWII nonetheless! "'When you look closely at the faces you can see that some have two or three days' growth on their chins,'" said Jorg Mullner of the ZDF channel who was a co-editor of the documentary made on the findings of this film. It is difficult to imagine this scene today after the images we have of SS guards, but it does further bring to surface the lengths the Nazis were willing to go to please the country and, more specifically, Hitler.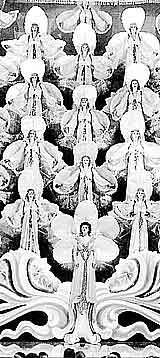 Her personal life was also interconnected with her professional one as well. Her first husband was the actor Nils Leander with whom she had two children, Boel (daughter born in 1926) and Göran (son born 1929), but they divorced the same year that her son was born. Afterwards, she was married to the journalist Vidar Forsell between the years 1932-1943, however, he became her manager shortly after their marriage. Finally, she wed Arne Hülphers, the pianist, whom she had worked with for 25 years in 1949; their marriage lasted until his death in 1978.

Noted for her "smoky voice and exaggeratedly rolled 'Rs,'" Zarah was the epitome of an eroticized woman and sang songs that continued to suggest such an idea (ie: "Can Love be a Sin?") (www.q.co.za/2001/2001/06/08-ssdrag.html). She became the highest-paid actress in Germany during WWII, but not without a struggle since many, like Goebbels, thought that a German born talent should have filled this role. Hitler thought that Zarah was wonderful, but "Goebbels was put off by her independent attitude, her love of aquavit and her insistence on being paid in Swedish Kroner" (wais.stanford.edu/Germany/germany_ZarahLeander2(090103).html). She was often thought of as a replacement figure for Marlene Dietrich who, after her rejection of the Nazi power, had found a new home in America, but whether or not this statement has truth behind it is not really the issue. Basically, Zarah was a star, the Fuhrer loved her, and she had more power than most women of her time. She was able to build a career and a home in a war torn country that would have otherwise turned her out if her luck hadn't been what it was. However, Zarah proved herself worthy of the title (the Diva of the Third Reich) even if perhaps her position wasn't one of the most coveted.