Winifred Wagner
The Muse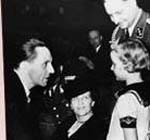 This page was created by Jessica Evans, a senior math major at UCSB (link to author's page). While researching women important to Hitler and the Nazi movement, I found information about Winfred Wagner and thought her to be an important person in Hitler's life (sources).
Winifred Williams was born in Hastings, England, in 1897. Both of her parents died before she was two-years-old, so she spent her childhood in an English orphanage before being adopted by distant relatives in Germany. Her adoptive father, Karl Klindworth, was a friend of Richard Wagner's, so she grew up in Wagner's musical and ideological world. In 1914, when she was 17, Winifred met Siegfried Wagner, Richard Wagner's son. They married a year later and produced four children very quickly.
The Bayreuth Festival was envisioned as a family business, with the leadership to be passed from Richard Wagner to Cosima Wagner to Siegfried Wagner to his son. Winifred Wagner took over the operation of the Festival after her husband and mother-in-law passed away. Wagner first met Hitler at this festival in 1925. Hitler was a Wagner enthusiast as well as a close friend of the family. The festival became a highlight of the Nazi calendar and was given government assistance and tax-exempt status. "The Bayreuth Festival served as a rite of secular cult of German nationalism, of Nordic self-realization, and völkisch aspiration." Wagner believed strongly in these ideals, as did Hitler, and in Nazism. After the collapse of the Third Reich, she was forbidden, among other things, to run the Bayreuth Festival.
Personally, Winifred Wagner's relationship with Hitler got very close. During his time in the Landsberg Prison after the failed Munich putsch, Wagner sends Hitler food parcels and paper, on which he wrote Mein Kampf. After the deaths of Siegfried Wagner and his mother Cosimo Wagner, Hitler proposed to Winifred twice, but she rejected him, according to the latter website listed below (jump to end of page). By 1933, there were rumors of marriage and Wagner's house became one of Hitler's favorite retreats. In an interview by Hans-Jurgen Syberberg in 1975, Wagner said of Hitler, "To have met him is an experience I would not have missed." Although this is hard to prove, multiple websites gave similar information regarding the relationship between Winifred and Hitler
Although Wagner was a strong supporter of the Third Reich, she used her powerful position to help a number if Jews. She remained a strong Nazi and an admirer of Hitler until her death in 1980.