All-UC conference of history departments, May 1997.
text with my table of moral categories (after Habermas) at end

"The Berlin National Memorial to the Victims of War and Tyranny: From Conflict to Consensus."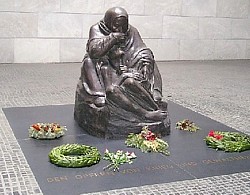 (back to top)
"Adapting Dachau to the Needs of Visitors, 1933-2000." (back to top)
Association of American Geographers' Conference, Honolulu, March 1998.
text without footnotes [revised Jan. 2001]
due to be published in fall 2004 in: G.J. Ashworth and Rudi Hartmann (eds), Horror and Human Tragedy Revisited: The Management of Sites of Atrocity for Tourism. (New York: Cognizant Books, 2005?)

"Generational Cohorts and the Shaping of Popular Attitudes Towards the Holocaust."
'Remembering for the Future' conference, Oxford, July 2000. (back to top)
text (with table but without footnotes),
abstract (2 pages. w/ questions).
Published in: Remembering for the Future (London: Palgrave: 2001), vol. 3, pp. 652-663.
Summary presented Feb. 2004 UC German History get-together at UC Berkeley; see conference summary (I'm sitting the third from left in the picture.)
The utility of the "generation" vs. "cohort" concepts were discussed at this March 2010 conference in Hamburg comparing "Contemporary History in East and West" (Tagungsbericht on HSozKult)

"Technology in the History-Social Science Classroom." (back to top)
California History-Social Science Project, first follow-up workshop, UCSB, Feb. 2002.
"Lessons from The Diary of Anne Frank." (back to top)
California History-Social Science Project seminar "Technology in the History-Social Science Classroom," UCSB, Aug. 7, 2002.
powerpoint presentation (1.8MB, 19 slides)

"Das Erbe von Dachau Vom Gebrauch und Missbrauch eines Konzentrationslagers, 1933-2001," book presentation in Dachau Castle, 31 July 2002. (back to top)
"Personal Remembrance and History," week-long professional development workshop for K-12 teachers, July 26-30, 2004. I made a separate page with my three presentations about: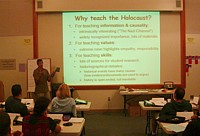 teaching goals
interviewing historical witnesses, and
Holocaust denial.

"The Internet as a Venue for Scholarly Interaction with the Public." (back to top)
"Memories of Genocide and the Development of Collective Moral Identities." (top)
presentation at the conference "Genocides: Forms, Causes and Consequences" in Berlin, Jan. 13-15, 2005, in a section titled "Genocide, Memory, Identity."
"How Dachau Has Changed: Ideas and Goals of Its Presentation, 1945-2005"
presented at a German-French conference in Munich, on April 29, 2005.
German text (pdf) and French translation (pdf)--both were published
The conference website was: www.dachau2005.com (removed 2007, blank in web archive).


presented to a colloquium of the UCSB history department, June 8, 2007
presented as a guest lecture in Hist 192: "History of Historical Museums," Oct. 11, 2007
"Von der Monumentalität zur Spurensicherung: Dachau seit 1945" [From Monumentality to the Preservation of Traces: Dachau since 1945], symposium Dachau/München--Ort und Erinnerung [Dachau-Munich: Place and Memory], Munich, July 19, 2008
keynote lecture at the UC Irvine symposium Teaching the Holocaust, April 13, 2010
8 page pdf with 48 ppt slides (32 shown, others with commentary + 2 extras at end)

"From Avoidance to Affirmation: The Evolution and Functions of Holocaust Memorialization in Germany, 1945-present,"
presentation at the conference "Memorializaiton of the Holocaust and World War II," at the University of Haifa, Israel, Nov. 17, 2010
6 page pdf with 36 slides (note: not all slides shown: hidden slide titles in [ ] )

"The Global Landscape of Holocaust Memorialization," for the UCSB Interdisciplinary Humanities Center's Geographies of Place series, Santa Barbara, January 19, 2011.